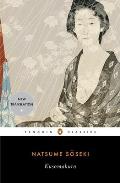 Natsume Soseki's Kusamakura follows its nameless young artist-narrator on a meandering walking tour of the mountains. At the inn at a hot spring resort, he has a series of mysterious encounters with Nami, the lovely young daughter of the establishment. Nami, or 'beauty,' is the center of this elegant novel, the still point around which the artist moves and the enigmatic subject of Soseki's word painting. In the author's words, Kusamakura is 'a haiku-style novel, that lives through beauty.' Written at a time when Japan was opening its doors to the rest of the world, Kusamakura turns inward, to the pristine mountain idyll and the taciturn lyricism of its courtship scenes, enshrining the essence of old Japan in a work of enchanting literary nostalgia.
japanese title:
Kusamakura
notes:
Japanese title: Kusamakura. English title, Peter Owen 1965: The three cornered world. introduction and notes by Meredith McKinney.
subjects:
Buddhist hermits
Painters
genre:
Fiction
ISBN:
9780143105190
OCLC number:
145732841
publisher:
Penguin Books
publication place:
New York
japanese publication date:
1906
english publication date:
2008
document type:
Book
description:
xx, 152 p. ; 20 cm.